Custom IC Test Sockets & Thermal Solutions & ATE Handlers
---
Exatron ATE Handlers - From Bench - To Lab - To Production
In addition to IC Test Sockets, Exatron is traditionally known for providing the latest, most proven, most reliable and most ingenious technology in standard and custom ATE Handlers in the industry. Exatron handlers and products range includes a full line of standard and custom handlers, custom IC test sockets and related products. Designed, Made and Patented in the USA.

Contact Us Today! Email
---
Device Handlers:

Pick and place, gravity feed, rotary and custom style handlers. Exatron offers a wide range of handling methods to suit nearly any device and system type.

Automated Programming Systems:

Small volume systems.

Production volume systems.

Third party programmer support. Exatron offers a variety of high speed, low cost programming systems for both small and production volume needs, as well as third party programmer support.

Thermal Test Solutions:

Exatron produces custom thermal test solutions from benchtop to hand test to high-volume production to meet your exact needs. Exatron products feature seamless integration of thermal test solutions over our entire equipment range.
MEMS Handlers:

Exatron designs and manufactures MEMS handler systems for air pressure/vacuum, audio, electrical, impact/vibration, light sense/source, thermal and magnetic testing and laser marking.

Laser Marking:

Automated laser markers with pick and place, manual and automated laser enclosures and rotary laser enclosures. Compatible with major laser OEMs: Rofin, Keyence, Spectra Physics and more.

Machine Vision:

Exatron offers integrated vision. Precision BGA, QFN, and leaded 3D measurement, 2D inspection, pattern verification and optical character recognition (OCR), Smart Mark®, tape & reel inspection, camera-aided test/program socket alignment.
Tape & Reel:

Manual tape and reel systems stand alone systems with or without vision. Automated tape and reel systems integrated into any Exatron handlers and built to suit your needs.

Exatron, since 1974:

Longevity counts! Exatron was established in 1974 in San Jose California and is highly regarded for creating hard working, well made, reasonably priced equipment designed to evolve with customers' needs.

Yes, please send an email or give us a call. We will be happy to discuss your needs or interests. Exatron builds Custom IC Test Sockets, Thermal Solutions and Custom Handlers to suit your exact needs.
Gallery of Exatron Handlers and Products.
---
---

Custom Made

Since 1974

Made in USA
---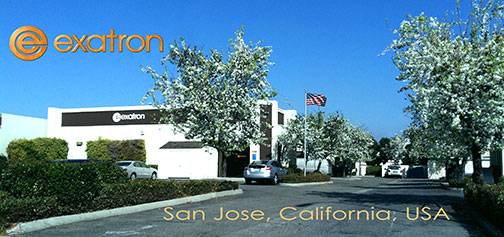 Exatron Test Sockets
Custom IC Test Sockets & Thermal Solutions 2842 Aiello Drive
San Jose, CA 95111-2154 (408) 482-4573 Contact Us Today!