Thermal IC Test Solutions Specifications
---
Manual Bench top Thermal IC Test Station Specifications
Specifications & Data Sheet
---
NOTE: New Models, with new features & greater on or off handler integration, Coming Soon!

---
The Manual Thermal Test System (MTTS® / PET-6) from Exatron is the most efficient, effective and reasonable, high performance choice for your IC temperature testing needs. Better than a Peltier system or the traditional issue prone forced air thermal stream forcing type systems. Exatron's system has zero frost, direct conduction contact plus no chiller fluid required.
This may be just right for you.
| | |
| --- | --- |
| PET-6 Copperhead TTS® | The Manual Thermal Test System MTTS SpecificationsDownload PDF Data Sheet » |
| Temp Range: | -80° C Minimum to +175° C Maximum. Temperature control +/-0.1° C Temperature accuracy +/-0.3° C when used with Exatron Copperhead Thermal Test Sockets. Built-in over temperature protection |
| Cooling Power: | 60W at -55° C, 130W at -40° C, 260W at -0°C |
| Frost control: | Thermal head internal and external purge air. Test socket purge air. Built-in heater prevents thermal head from sweating. Built-in purge air valves. Built-in -100°F air dryer optional. All software controlled. |
| Power: | 100/120VAC, 60Hz, 1 phase, 10 amp Or 220/240VAC, 50/60Hz, 1 phase, 6 amp (Specify needs at time of order) |
| Fluids: | None required, No LN2 or LCO2 required |
| Noise: | Quiet operation. 55-65 dBA. |
| Dimensions: Thermal Head: | 3.5" (8.9cm) W, 3.5" (8.9cm) D, 6.5" (15.2cm) H |
| Dimensions: Chiller: | 14.5" (36.8cm) W, 18" (45.7cm) D, 23" (58.4cm) H |
| Information: | Designed to fit entirely under a standard work bench. Thermal head connects to chiller via 6ft (1.8m), 2.5" (6.4cm) hose. System meets all known ESD requirements. CE Mark. System Made in the USA at Exatron in San Jose, California. |
Efficient & Effective: Featuring Exatron's Wide Range Thermal Head (WRTH), Exatron's proven direct contact conduction thermal test method, the The Manual Thermal Test System (MTTS®/ PET-6) is more powerful than electronic Peltier systems and more selective than forced air thermal stream options with none of the associated frost or ESD issues. The spring-loaded WRTH clips on quickly, maintains constant thermal contact and heats or cools only the DUT and test socket leaving surrounding components at room temperature. Guaranteeing zero frost during test, Exatron's complete socket purge protection features top and bottom socket gaskets and internal and external purge air jets which can be controlled as needed via the touch screen interface.
Sounds good for your application? - Contact Us Today and get a quote.
---

Custom Made

Since 1974

Made in USA
---
---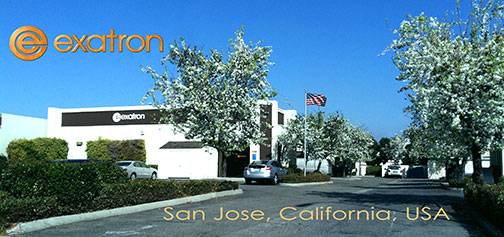 Exatron Test Sockets

Custom IC Test Sockets & Thermal Solutions
2842 Aiello Drive
San Jose, California, 95111

(408) 482-4573
Contact Us Today!